With over 300 days of sunshine, Denver is the perfect city to enjoy a drink or a meal outside.
Combine incredible views of the Rockies with the thriving craft brewery and distillery scenes, and you'll be looking for a great rooftop spot to sip a brew or a craft cocktail.
We've got you covered with our favorite rooftop bars in Denver: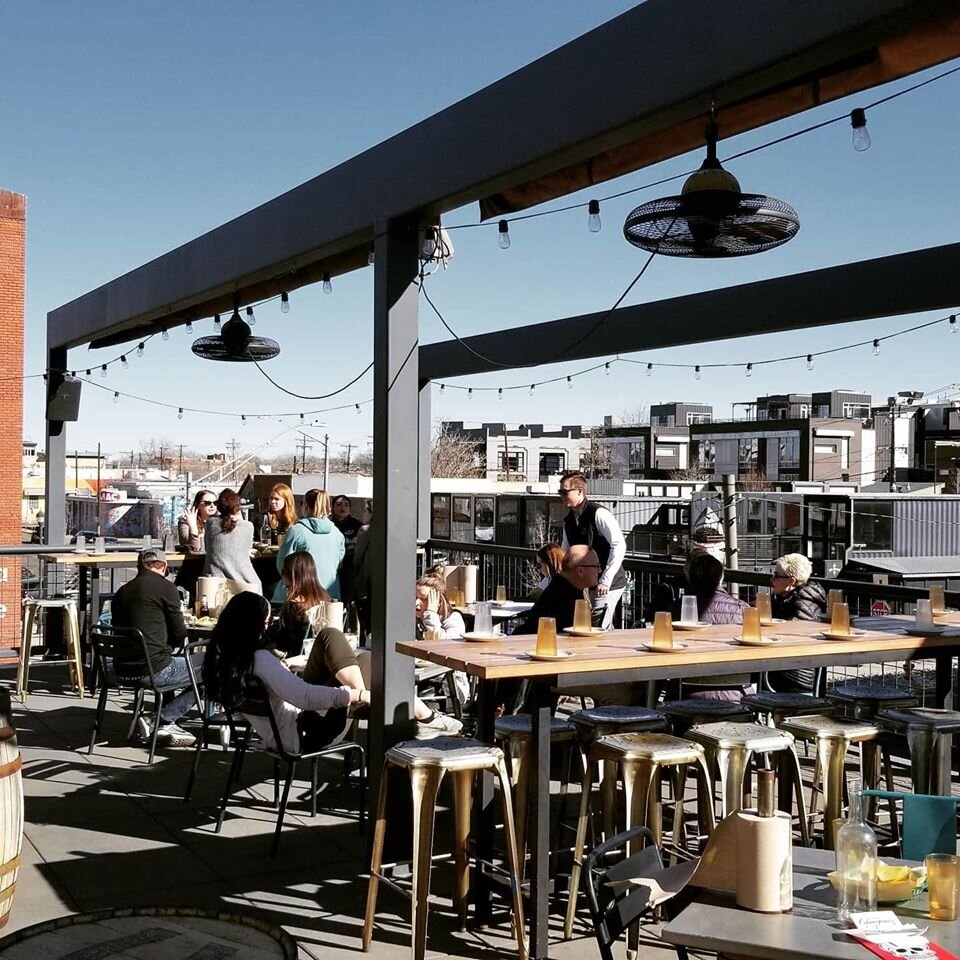 NEIGHBORHOOD: RINO
This awesome spot is located in the heart of RiNo, short for River North and home to some of the best street art in the city. Owned by popular chef and restauranteur Troy Guard (of Guard and Grace, Tag, Tag Burger Bar and a host of other Denver favorites), the menu boasts delicious margaritas, lots of locally brewed beers and delicious Mexican street food. Our favorite is their chicken leg taco, garnished with fuego takis! Enjoy a drink or a taco on their downstairs patio or head upstairs to their rooftop bar and enjoy a nice view of the Ramble Hotel and the RiNo neighborhood.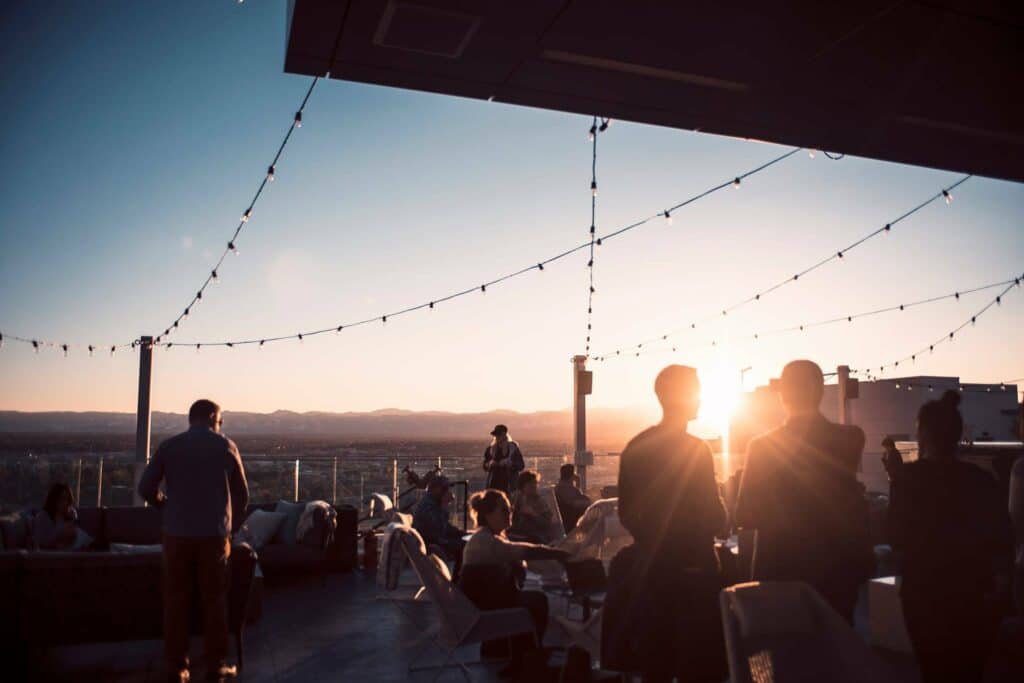 NEIGHBORHOOD: DOWNTOWN
54thirty takes home the award for Denver's highest open-air, seasonal rooftop bar, and Thrillist calls it one of the best rooftop bars in Denver. Located at the top of the Le Méridien hotel on the 20th floor in downtown Denver, the menu focuses on crafted cocktails and globally-inspired bites. The gorgeous views of the Rocky Mountains don't hurt!
The Woods at the Source Hotel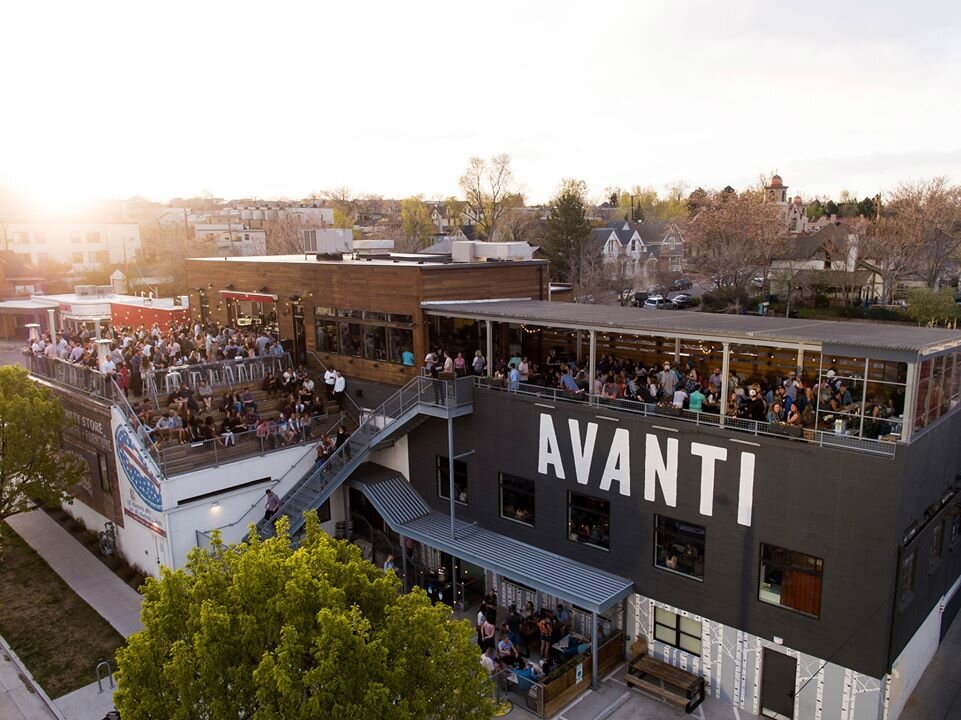 NEIGHBORHOOD: LOHI
One space, seven restaurant concepts! Avanti F&B, located in LoHi (the Lower Highlands), calls themselves a "collective eatery" inspired by European markets and food truck roundups. That means you can enjoy food from seven different restaurant concepts (and those concepts rotate out every few months) all under one modern roof. For a cocktail, beer or glass of wine, head to the bar on either of the two floors. And of course for gorgeous views of downtown Denver, head upstairs to their rooftop bars, one of our favorites in the Mile High City.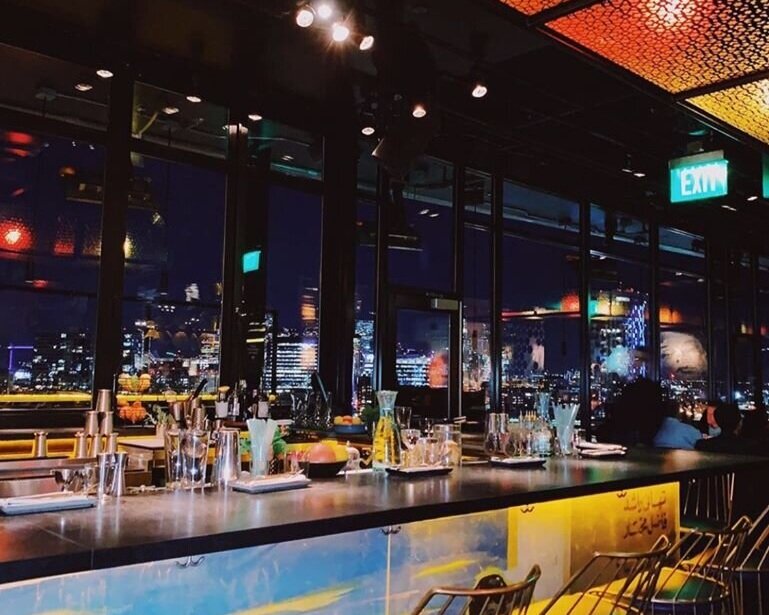 NEIGHBORHOOD: LOHI
Aptly named El Five because of its position on the 5th floor of their building, this sexy modern hang out boasts spectacular, unobstructed city views of Denver's skyline. This makes it the perfect spot for a drink and dinner with unrivaled sunset views. You can choose to dine inside (menus are focused around Mediterranean cuisine), or opt for a seat on their large open-air patio. This LoHi hot spot never fails to disappoint and is definitely one of the best rooftop bars in Denver.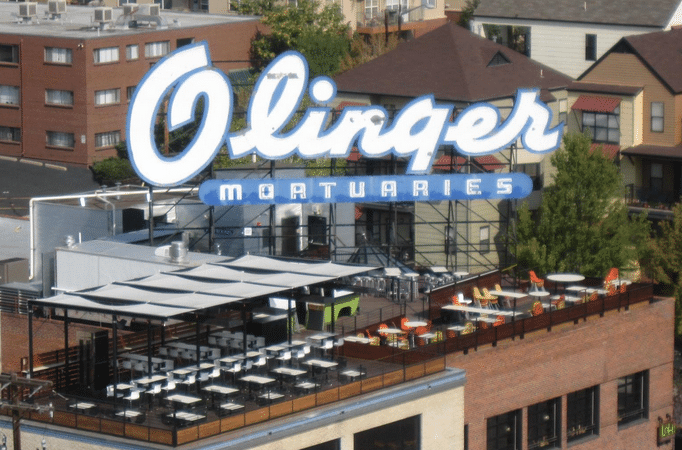 NEIGHBORHOOD: LOHI
It's only fitting that we plug Linger right after El Five as the two are under the same, popular restaurant group in Denver. Like its sister, Linger offers stunning views from its LoHi location as well as an eclectic food menu including everything from bao buns (the BBQ duck buns are amazing!) to yellowfin tostadas. In addition to the fun, funky vibe, diners and drinkers love Linger's history. In 1908 the building was first built as a mortuary for the Rocky Mountain region, and its original sign has been adapted from "Mortuary" to Linger's current "Eatuary."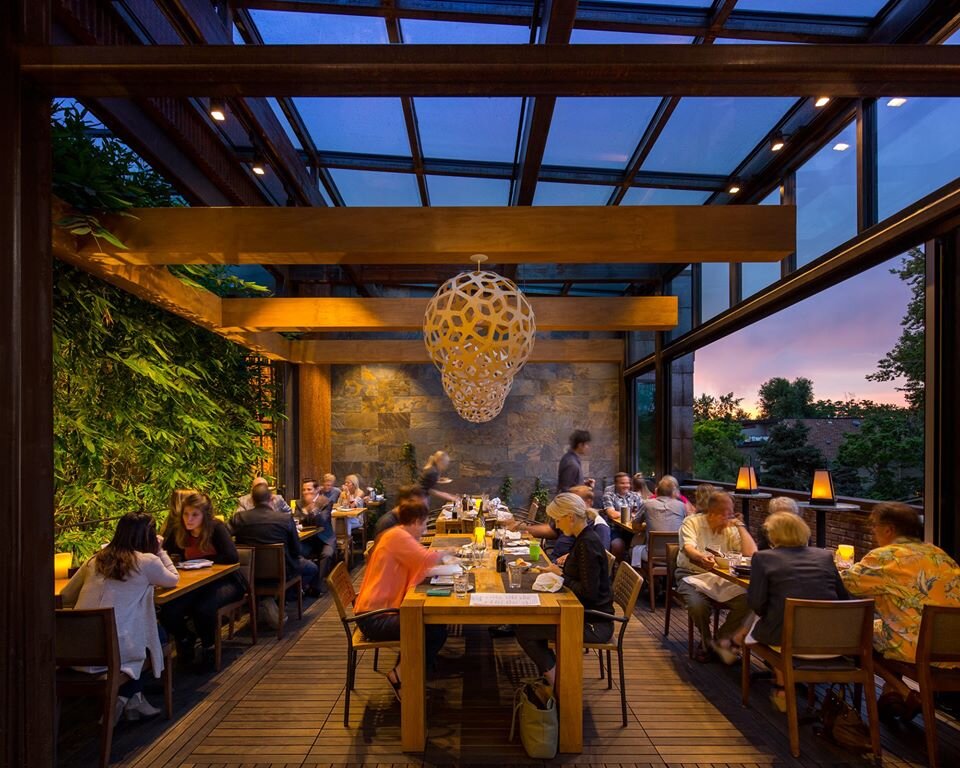 NEIGHBORHOOD: SOUTH PEARL
Izakaya Den is Sushi Den's sleek little sister, located next door on Old South Pearl Street in Denver. This local spot has taken home the American Architecture Award for its refined design that pays homage to its Japanese roots. Head to the second floor, and you'll see the retractable glass ceiling, making it the perfect spot to eat and drink al fresco. The menu features global cuisine and freshly sourced sushi.
Rare Bird: Rooftop Bar at the Halcyon Hotel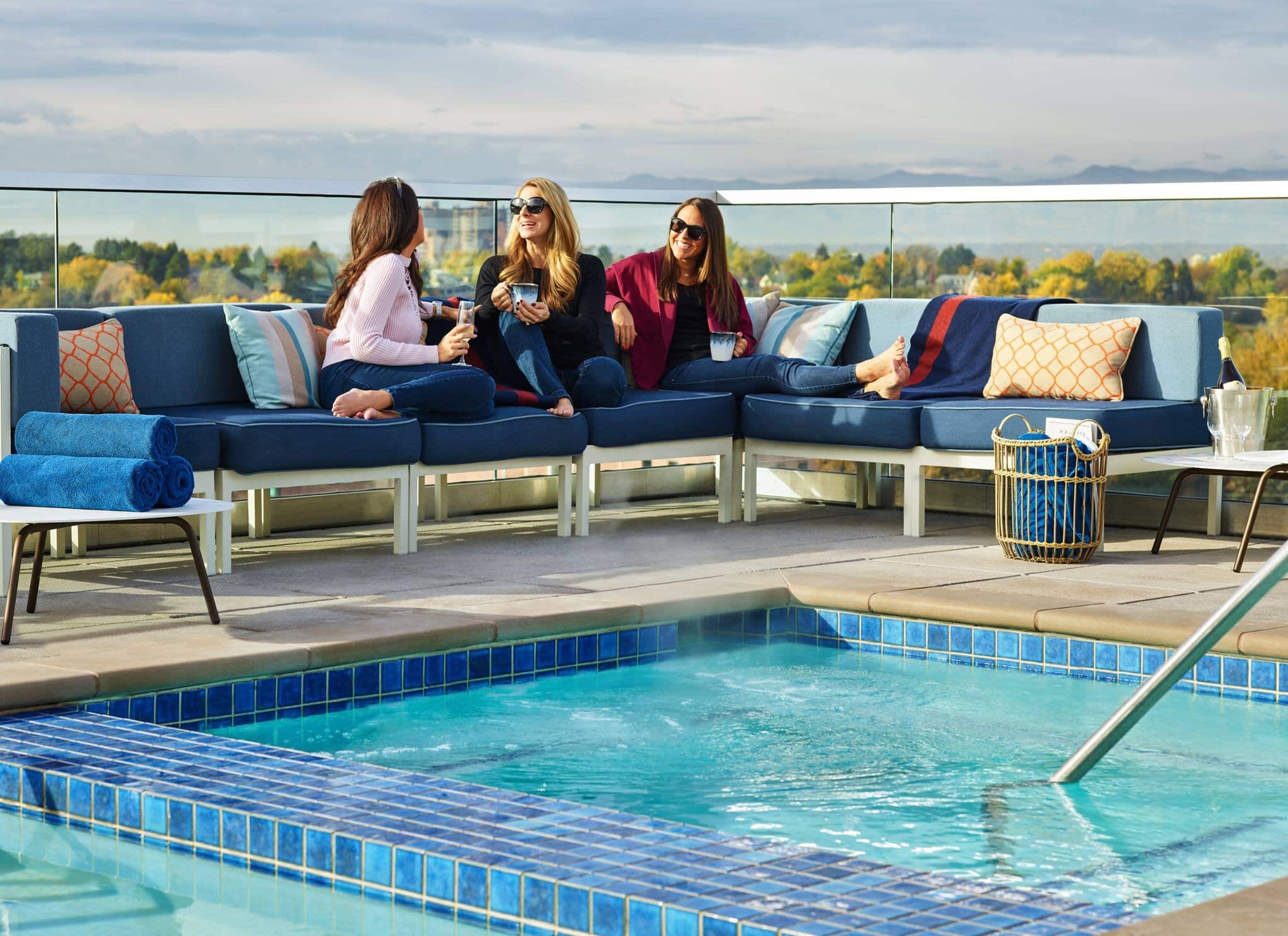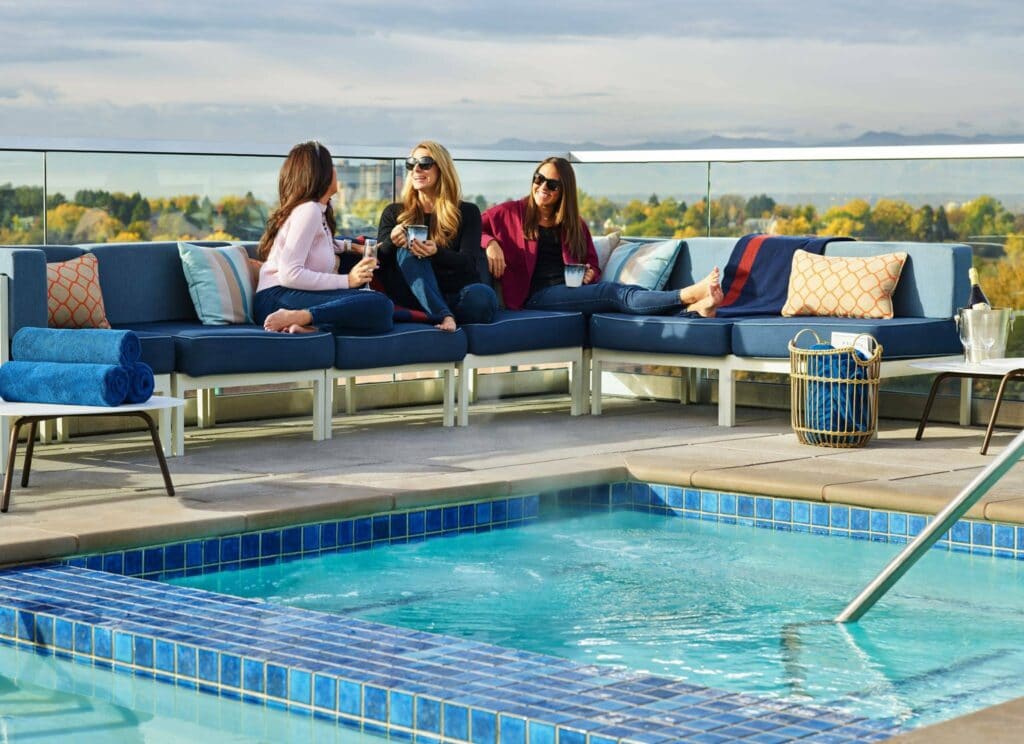 NEIGHBORHOOD: CHERRY CREEK
Located on the roof of the Halycon Hotel in the heart of Cherry Creek, Rare Bird is one of Denver's newest rooftop bars. This spot is perfect if you want to get out of the center of downtown and into one of Denver's more upscale neighborhoods. With unobstructed views of the Rockies on all sides, this is the perfect rooftop bar to catch the sunset and sip a cocktail, beer or glass of wine. Despite its location inside a hotel, you'll meet both travelers and locals here.